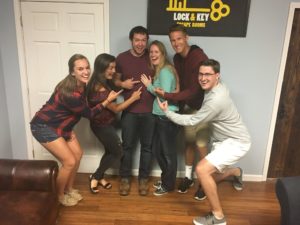 Nothing beats a marriage proposal escape room style. At Lock and Key Escape, we have a soft spot for proposals.
Are you looking for an incredibly unique way to propose? Our game masters can accommodate by helping stash the ring in the final puzzle in one of our rooms. We love fun surprises and twists on our games. This almost certainly has the potential to be a life-changing twist for you and your significant other.
Your future spouse will never expect it. Whether it's just you two, or a group of friends, no one else will expect it to happen. The element of surprise ads so much fun to a marriage proposal and nothing beats hiding it within the final locked puzzle inside an escape room. In other words, they will be so busy looking for clues, you can get down on one knee while your partner discovers the ring inside one of our props. You two will be telling this unforgettable story forever.
Popping the question is a huge deal. At Lock and Key, we make to find time to meet with anyone who is planning to propose in one of our games. We want to walk you through the game and make sure that we see what our customers see. It is important for you to know that we understand exactly how you want the proposal to happen.  Furthermore, we want to ensure that the moment is as perfect as possible and it will be memorable. Let us help you create the perfect proposal.
Any of our four rooms at our Minneapolis location will work. Although, we are particularly fond of Professor Jones' Office for the kind of caper.
How do I make an Escape Room Proposal happen?
To make this happen, book one of our four rooms and then contact us and we will help coordinate the details.